JOIN THE CRAFTING REVOLUTION
Have you ever wanted to make your own Armour, Jewellery, Props or Accessories, or considered a career in the world of costuming, wardrobe or leather working? Maybe you're passionate about LARP, Cosplay, Ren fairs or SCA? –or maybe you dream about working in the film industry? Then you're in the right place...
IF you are an existing student there is no need to Re Sign up
The Vision
It's taken a lifetime of lessons, more hours of research than hot dinners and more blood sweat and tears to reach this point. Dedication being just one ingredient among many, there are a whole host of skills one needs to succeed in this industry but above all others… PASSION.
"The Academy is finally my chance to realise a lifetime dream of not only bringing a likeminded community together to share a pool of knowledge, but to also share the learning and experience across a variety of skill sets, starting with the subject closest to my own heart…
Now, I want to share my passion, my learning, my complete ethos and process. Via The Academy, the world's first comprehensive, step-by-step guided journey imparting a lifetime of my experiences.
I've made my way as an artist mostly by trial and error, and by supplying thousands of avid fans over the last 25+ years, yet I was amazed at the lack of signposts and information when I started. Even now, despite the likes of Youtube, there are still so many huge gaps and that is why The Academy was launched.
This course is the course (along with those yet to be added) I wish I could have accessed back when I was starting out, and I very much hope it will be as rewarding to complete as it was to make. No matter your starting level you will be led hand in hand by me personally through the entire the process, joining thousands of likeminded students already becoming an integral part of the future of crafting"
Alex Agricola – Founder Black Raven Armoury & The Academy
Learn to create 
Working through my 12 easy-to-follow modules, you'll learn everything you need to make professional looking leather pieces.
You'll start by learning how to find inspiration and generate ideas, before moving on to the practicalities of design. In easy to follow simple steps, you'll lay the groundwork so when the time comes to make your creation, everything falls into place. You'll learn how few tools you need to get to work as well as learning to source materials on a budget. By the time you've completed the course, you'll have created your own pieces to rival any professional maker.
Best of all… learn at your own pace!!! Once you've purchased a course, your classes are automatically unlocked every 30 days (unless it's a single module, then you get it all at once) – it's there to access at any time, progressing and working on your projects as spare time allows.
What do you get over 12 months:
Over 20 hours of Video Lecture/Practical Demo
12 Accompanying 6000 word+ Workbooks
Modules 1-5 Exclusive Designs (Dragon, Wolf, Serpent, Raven, Bear)
Modules 6-11 complete multiple working patterns, including both a Mens & Ladies Body Armour design exclusive to The Academy
Full Online Personal Support
The opportunity to become an apprentice of Black Raven Armoury
Certification upon completion



Payment Options:(Debit and credit cards taken as well as PayPal)

$162.00 (full payment saving 10% ) 
or
 $180 payable over 12 monthly instalments of $15 with the first payment taken the day you sign up
If you'd like to be kept up to date about this unique new learning environment, joining thousands or likeminded students already on their journey – or know anyone you think may be interested – pre registrations for the next semester starting October 1st 2019, will begin August 1st 2019
Sign up, share and join me on this amazing journey! 
Alex Agricola
Founder – Black Raven Armoury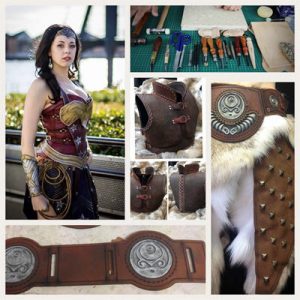 IF you are an existing student there is no need to Re Sign up